Disc Overview
The bones of the spine are separated by tough cartilage pads called discs.  Healthy discs are flexible and thick (like a wet sponge) allowing bending and twisting motions. Unhealthy discs are stiff and hard (like a dry sponge) and prone to injuries such as bulging or herniation.  Firstly, they act as the spine's shock absorbers.  Secondly, they allow the spine to move in many different directions.  Individually, the discs offer very little movement, but in teamwork with the spinal bones, they give the spine just enough flexibility for various ranges of motion.
What are discs made of?
Discs are mainly made up of water, collagen and proteoglycans – a protein found in human connective tissues which helps to attract water and keep the discs hydrated. The inner gel-like material (nucleus pulposus) contains more water than the outer coat (annulus fibrosus).
This water content is very important because it keeps the discs plump and healthy, which enables them to function more effectively.
How do discs stay healthy?
Unlike other structures in the human body, spinal discs do not have a direct blood supply. Instead they get their nutrients and moisture from a kind of pumping action as the spinal bones above and below move in all directions.
This is really important to understand because it is central to why most disc problems develop, as well as providing the key to reversing disc problems after they have emerged.
Without this regular pumping action, spinal discs are unable to get the mosture and nutrients they need for optimum health.
Why do discs become unhealthy?
Over long periods of time, due to gravity, dysfunction in the spinal joints and accumulated trauma, the discs become starved of adequate water and nutrients and begin to become dehydrated and malnourished.
This process can lead to the discs losing their plumpness, causing them to become flattened in appearance and less elastic – and so affecting their ability to function properly.
This is what is known as 'Degenerative Disc Disease.'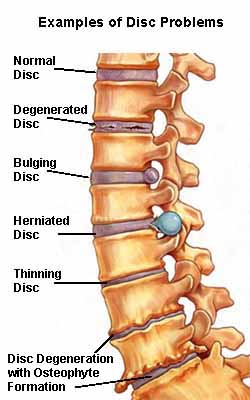 Also, the outer layer of dehydrated discs can become prone to thinning and cracking. This weakening of the outer layer may result in the inner gel pushing out, causing the outer layer to bulge.
Constant and continual compression prevents much-needed oxygen and nutrients from entering the disc. This ongoing starvation causes the once-tough outer layers of the disc to deteriorate (wear & tear) allowing the disc to become injured or diseased.
Disc damage can occur anywhere in the spine. However, the discs of the neck (cervical spine) and low back (lumbar spine) are the most commonly injured.
Because of the way each disc is attached to the spinal bones (vertebrae) above and below, a disc cannot "slip" as commonly thought. However, trauma or injury to the spine can cause discs to tear, bulge, herniate, dessicate or rupture. This can be quite painful, putting pressure on the nerve roots and/or spinal cord, interfering with their function.
Chiropractic and Disc Problems
The chiropractic approach to disc problems is to help restore better motion and position to the spinal joint or joints involved. Besides reducing disc bulging, better spinal function helps reduce inflammation and begin the slow process of healing the surrounding soft tissues.
While results can't be guaranteed, many patients have avoided needless surgery or a dependency on pain pills, by choosing conservative chiropractic care. The traditional approach to disc problems often ignores spinal function.  If detected early enough, conservative chiropractic care is not only safer, but is often more effective than back surgery.